For BMW enthusiasts, the 2018 North American International Auto Show (NAIAS, held January 14-28 in Detroit) was a triumph of German ingenuity and industry. The luxury car maker premiered its updated BMW i8 Coupe and new BMW X2 at the Detroit Auto Show. They also paraded around a host of future model offerings, including the Concept X7 iPerformance, i8 Roadster First Edition, X5 M Black Fire, and 6-Series Gran Turismo.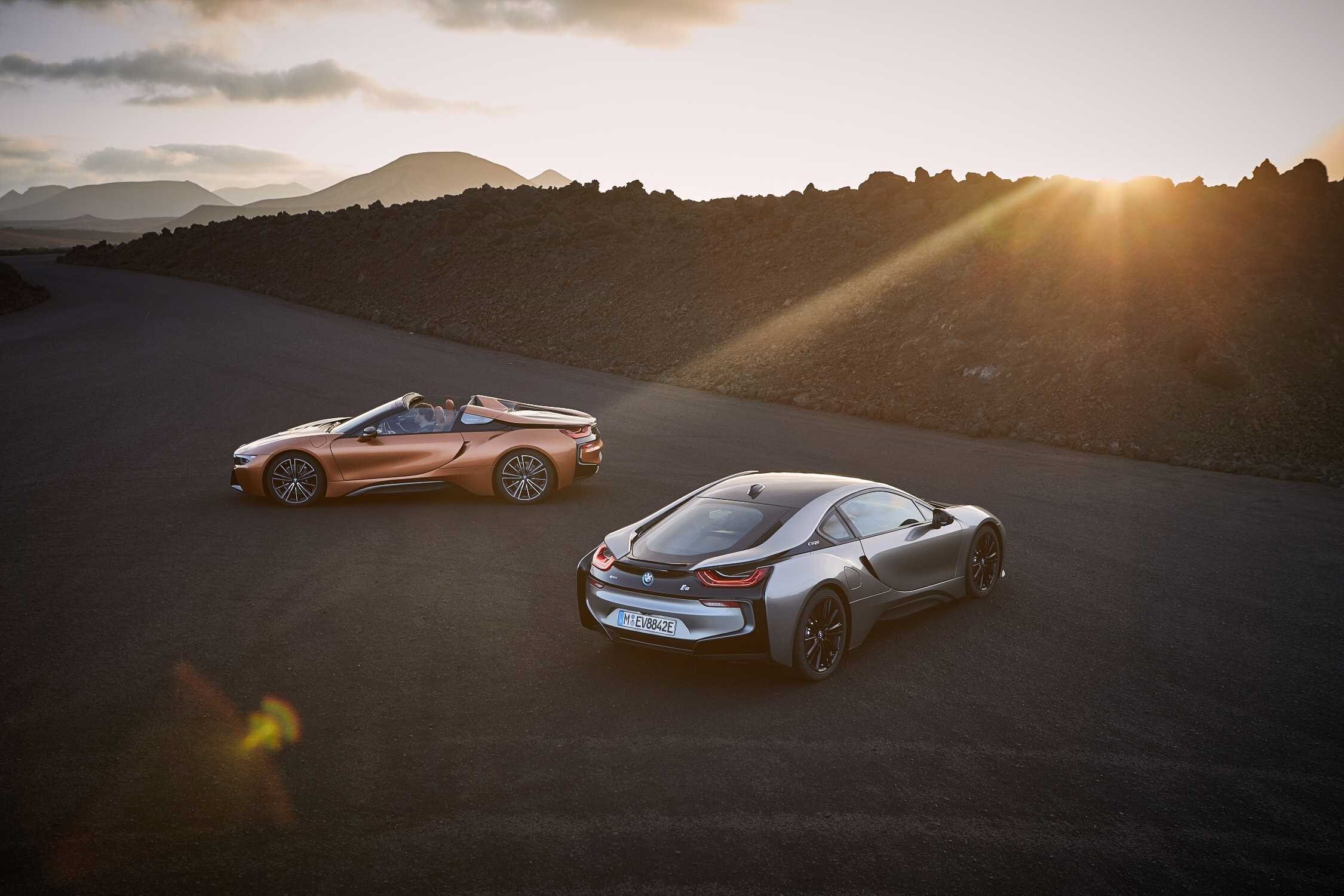 Photo: press.bmwgroup.com
Here's a recap of what BMW accomplished at this year's NAIAS in Detroit, including highlights from the upcoming new BMW models.
All-New BMW i8 Coupe
With BMW's signature split-kidney front grilles and suave gullwing doors, the i8 Coupe combines sleek allure with unparalleled turbo-charged aerodynamics.
The plug-in hybrid combines a turbocharged 1.5L 3-cylinder engine, 6-speed automatic transmission, an electric motor, lithium-ion battery, and BMW eDrive technology to deliver a combined system output of 374 hp
The i8 Coupe accelerates from 0-62 mph in 4.4 secs, with a top speed of 156 mph.
The combined fuel consumption is 1.9 liters/100 km (148.7 mpg imp), and the combined electric power consumption is 14.0 kWh/ 14.5 kWh per 100 km (62 miles).
Emissions from the engine are 42 gm/km, and its electric driving range in the NEDC test cycle is 55 km (34 miles).
BMW i8 Roadster First Edition
The convertible edition is limited to 200 units and shares the i8 Coupe's engine outputs. For convertible-lovers, its soft-top roof opens and closes in a nifty 15 secs.
The i8 Roadster accelerates from 0-62 mph in 4.6 secs, with a top speed of 156 mph.
The newly-introduced E-Copper metallic and Donington Grey metallic exterior colors (as well as the new optional Accaro interior trim in Amido/E-Copper) that are available for the i8 Coupe and i8 Roadster are also obtainable for this Roadster First Edition.
Combined fuel consumption is 2.1 liters/100 km (134.5 mpg imp), and the combined electric power consumption is 14.0 kWh/ 14.5 kWh per 100 km (62 miles).
Carbon emissions from the engine are 46 gm/km, and its electric driving range in the NEDC test cycle is 53 km (33 miles).
Upcoming BMW X2
The X2 shares the same modular architectural UKL2 platform as the X1 and comes in SE, Sport, M Sport, and M Sport X derivatives.
Boasts BMW's signature C-pillar roundels and, for the first time, wider-based grille styling.
Stylish alloy 20-inch wheels, optional Dynamic Damper Control with M Suspension, and optional M-rear spoiler for the M Sport and M Sport X models.
The X2 premiers the new exterior colors of Galvanic Gold, Misano Blue, and Sunset Orange.
Three engine/transmission variants will be offered in 2018: the BMW X2 sDrive20i, X2 xDrive20d diesel, and X2 xDrive25d diesel. The fuel variant is matched with BMW's 7-speed Steptronic dual-clutch transmission, while the two diesel variants are combined with xDrive intelligent AWD and 8-speed Steptronic transmission.
New model variants for 2018 will comprise the 3-cylinder X2 sDrive18i, 4-cylinder X2 xDrive20i, X2 sDrive18d, and X2 xDrive18d. The BMW X2 xDrive28i will be the first X2 in the US, premiering in March 2018.
6-Series Gran Turismo Fitted with M Performance Parts
At the 2018 NAIAS, BMW also introduced a 640i Gran Turismo fitted with its signature B58 3-L straight six engine.
The B58 is a revolutionary improvement on its N55 predecessor, delivering smooth efficiency and aggressive revving power.
It was honored as one of Wards Auto's 10Best engines in 2016 and 2017.
The Gran Turismo puts out at a respectable 332 lb-ft of torque.
Depending on the transmission, it can accelerate from 0-62 mph in 5.4 seconds (RWD model) or 5.3 seconds (xDrive).
Other BMW Updates & News from NAIAS
At the BMW Group Press Conference on January 15, Dr. Nicolas Peter, BMW finance board member, discussed expanding BMW's $9-billion factory in Spartanburg, South Carolina. The plant, built in 1992, exports 70% of the vehicles it produces and is the largest BMW manufacturing facility in the world today.
From 2018 to 2021, BMW has earmarked $600 billion toward producing future generations of BMW X models. It also expects that 15-25% of sales by 2025 will be of vehicles powered by all-electric or plug-in hybrid drive systems.
At the same press conference, Bernhard Kuhnt, President and CEO of BMW North America, announced that MSTEP will launch its pilot program in February 2018. MSTEP is BMW's new Military Service Technician Education Program, the veteran equivalent of the traditional STEP, which trains future BMW technicians for more than 600 MINI, Motorrad, and BMW dealers nationwide. For the first time in American history, MSTEP will be offered on select military bases, with its first located at Camp Pendleton in California.
On hand to announce BMW's new superbike offering was Michael Peyton, Vice President of BMW Motorrad Region Americas, who flaunted the all-new G 310 GS as an early 2018 debut. Meanwhile, his colleague, Thomas Felbermair, VP of MINI Region Americas, proudly announced BMW's newest MINI Electric Concept plug-in hybrid will debut in 2019.